THE INTERNATIONAL PERSPECTIVE OF URBAN STORYTELLING
MUGSHOT
VOLUME 2 ISSUE 4 - SPRING 2003

THE INSPIRED
glen e. friedman
by Amber Fosse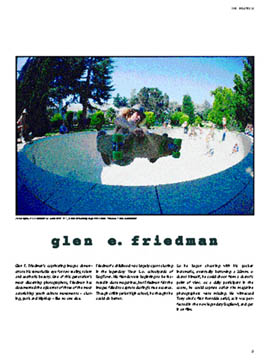 Glen E. Friedman's captivating images demonstrate his remarkable eye for raw reality, talent and aesthetic beauty. One of this generation's most discerning photographers, Friedman has documented the epicenter of three of the most astonishing youth culture movements - skating, punk and Hip-Hop - like no one else.

Friedman's childhood was largely spent skating in the legendary West L.A. schoolyards of DogTown. His friends were beginning to be featured in skate magazines, but Friedman felt the images failed to capture skating's true essence. Though still in junior high school, he thought he could do better.

So he began shooting with his pocket Instamatic, eventually borrowing a 35 mm. A skater himself, he could shoot from a skater's point of view. As a daily participant in the scene, he could capture action the magazine photographers were missing. He witnessed Tony Alva's first frontside aerial, as it was perfected in the now legendary DogBowl, and got it on film.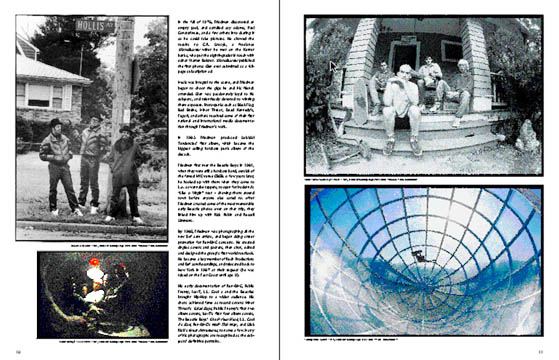 In the fall of 1976, Friedman discovered an empty pool, and corralled Jay Adams, Paul Constatineau, and a few others into skating it so he could take pictures. He showed the results to C.R. Stecyk, a freelance SkateBoarder writer he met on the Kenter banks, who put the eighth-grader in touch with editor Warren Bolster. SkateBoarder published the first photos Glen ever submitted as a full-page subscription ad.

Music was integral to the scene, and Friedman began to shoot the gigs he and his friends attended. Glen was passionately loyal to his subjects, and relentlessly devoted to winning them exposure. Proto-punks such as Black Flag, Bad Brains, Minor Threat, Dead Kennedy's, Fugazi, and others received some of their first national and international media documentation through Friedman's work.

In 1983 Friedman produced Suicidal Tendencies first album which became the biggest selling hardcore punk album of the decade.

Friedman first met the Beastie Boys in 1981, when they were still a hardcore band, outside of the famed NYC venue CBGB. A few years later, he hooked up with them when they came to L.A. as wannabe rappers, to open for Madonna's "Like A Virgin" tour - showing them around town before anyone else cared to. After Friedman created some of the most memorable early Beastie photos ever on that trip, they linked him up with Rick Rubin and Russell Simmons.

By 1985, Friedman was photographing all the new Def Jam artists, and began doing street promotion for Run-DMC concerts. He created singles covers and posters, then shot, edited and designed the group's first world tourbook. He became a key member of Rush Productions and Def Jam Recordings, and relocated back to New York in 1987 at their request (he was raised on the East Coast until age 9).




"Inspiring people, with integrity and rebelliousness."
For the past quarter century, Friedman has been doing just that.
- Los Angeles Times



His early documentation of Run-DMC, Public Enemy, Ice-T, L.L. Cool J and the Beasties brought Hip-Hop to a wider audience. His shots achieved fame as record covers: Minor Threat's Salad Days, Public Enemy's first two album covers, Ice-T's first four album covers, The Beastie Boys' Check Your Head, L.L. Cool J's Bad, Run-DMC's Walk This Way, and Slick Rick's Great Adventures, to name a few. Many of his photographs are recognized as the subjects' definitive portraits.

By 1994, Friedman had published Fuck You Heroes on his Burning Flags Press imprint. A collection of his work spanning 1976 to 1991, "Heroes" looked at the pioneering leaders of the skateboarding, punk and Hip-Hop subcultures. Its title, though offensive to some, signifies his subjects' heroic rejection of reactionary social standards. His second book, Fuck You Too: The Extras & More, was published in 1996.

The FUCK YOU ALL exhibition, combining photos from both books, brought Friedman's work to major cities around the world. Starting at the Institute of Contemporary Art in London, the exhibit went on to Sydney, Tokyo, Rome, Milan, Berlin, Stockholm, Chicago, Washington DC, Philadelphia, and most recently Los Angeles.

In 1998, Glen followed up with The Idealist: Twenty Years in My Eyes, which he considers the artistic summation of his photography from 1976 to 1996. Diverging greatly from his other work, The Idealist features images from around the world, ranging from the rough realities of violence to scenic landscapes, and a few selections from his more well-known skating and music files.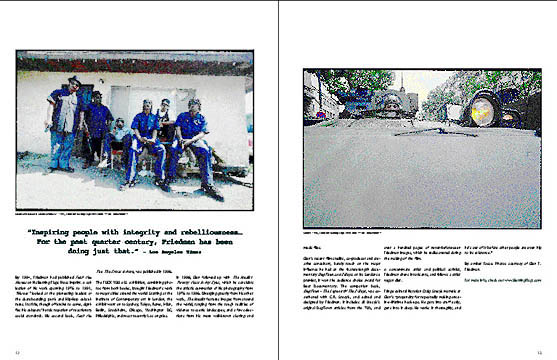 Glen's recent film credits, co-producer and creative consultant, barely touch on the major influence he had on the feature-length documentary DogTown and Z-Boys. At its Sundance premier, it won the audience choice award for Best Documentary. The companion book, DogTown - The Legend Of The Z-Boys, was co-authored with C.R. Stecyk, and edited and designed by Friedman. It includes all Stecyk's original DogTown articles from the 70's, and over a hundred pages of never-before-seen Friedman images, which he rediscovered during the making of the film.

A consummate artist and political activist, he shuns intoxicants, and follows a strict vegan diet.

Fringe cultural historian Craig Stecyk marvels at Glen's "propensity for repeatedly making once-in-a-lifetime hook-ups. He gets into stuff early, gets into it deep. He works it thoroughly, and he's out of it before other people are even hip to its existence."

By Amber Fosse. Photos courtesy of Glen E. Friedman



For more info, check out: www.BurningFlags.com


(contents page + 5 pages for this story)






BACK to OLD PRESS ARCHIVE index