Hardcore Lifestyle

BIG CHEESE
magazine
(from England)

ISSUE 40 - APRIL/MAY 2003

--------------------------------------

Glen E. Friedman

LIVE THROUGH THIS
There's not many people who can honestly be called a living legend. Glen E. Friedman is without a doubt one of them. You name it: He's done it first, best and true. He grew up with the legendary Dogtown & Z-Boys skate team who set the bar for skating, recently working as a co producer on the award winning film of the same name. He's photographed some of the very best skaters, such as Tony Alva, Jay Adams and Duane Peters for such seminal skate mags as 'Skateboarder', and later 'Action Now'. He's also helped pioneer the LA Punk scene, shooting album covers for the likes of Suicidal Tendencies, Circle Jerks and The Adolescents, as well as such hip hop legends as The Beasties, Chuck D and Run DMC. Big Cheese featured Glens' work way back in issue 2 and when he was holidaying in London recently he called us up and granted us his only U.K interview. Currently living in New York, Glen is a committed vegan, a pretty funny guy and a true pioneer in every sense of the word. In these days of sellouts and fakes we could do with a few more like him.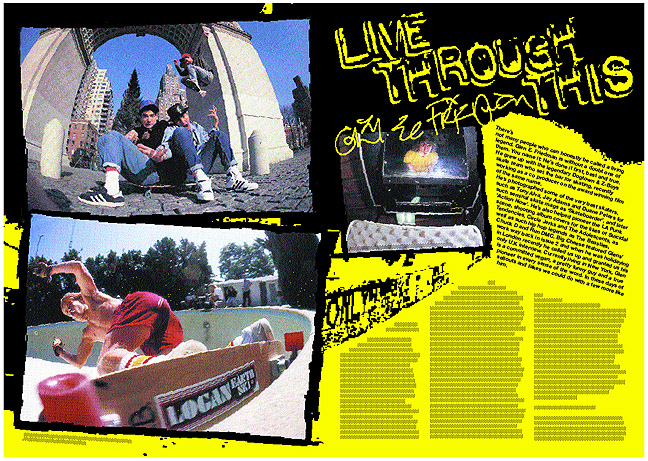 REUNIONS AND REMAKES!
I got involved with the 'Dogtown and Z-Boys' film because I was part of the whole scene and I probably had more pictures from the era that they became famous in than anyone else, besides Craig Stecyk, and Stacy Peralta just had a feeling that I'd be interested in being involved with the project. Without my images it probably would have been a lot less colourful! Right from the very beginning we were both in touch and very close throughout the whole process. They gave me a credit as Co-Producer and Creative Consultant. I really, in a lot of ways, did a lot of production work. It's mostly the use of my photos, but I also helped them get some of the important music in the film due to my music business connections and also getting Sean Penn as a narrator. Sean was a skater. He knew of the guys and he went to the same high school as Jay Adams and Tony Alva so I had a feeling that he'd be into it and I wrote him a really strong letter and he was with it. Of all the Z-Boys the only person I had seen over all these years was probably Tony Alva. I had a show in L.A. back in '94 and [Biniak] and Constantineau were around but we had to research to find some of the guys. The guys at www.Z-Boys.com helped me a lot. We found Wentzl one day. No one knew where he was. We found him in Rhode Island somewhere. He was out on a plane one day later to do his interview. He'd moved on a little bit. He had a family and everything else. A lot of people from that era have died but all the guys on the team are alive. Even Chris Cahill, who wasn't in the film because we couldn't find him. Not all of them are doing fantastically but they're all surviving. I spoke to Jay Adams a couple of times during the making of the film and he's up and down like he always is. He's got a lot of attention from the movie. He's got a skateboard deal with some company. There were business problems with Deathbox, I don't know exactly what happened but he's riding for Dogtown now I think. He has an Osiris sneaker deal too so he's got all kinds of stuff. Hopefully he'll be able to deal with it responsibly and I hope the same thing doesn't happen as the first time around. This time people are really looking out for him and people want to pay him the respect that he deserves. Basically, I think that it's great that the movie was made. I think it's pretty cool. There are perhaps things that could have made it better but overall it's great. I'm happy it's done. It shows people where I came from. It explains to a lot of people why the Dogtowner's are in my books. David Fincher ('Fight Club', 'Seven') is doing a remake of the film [a fictional account]. He's an incredible artist with a lot of integrity. I think getting Fred Durst involved as the director was his idea but I heard that Durst is no longer associated with it. I'm not that concerned with that fake remake. The film [era] can't be replicated. You can't recreate it.

POOLS, PROS AND PHOTOS!
I had no idea what was needed or what was necessary to take skate photos. I figured out what was needed was 35mm slides and black and white photo prints [from reading the magazine credits column]. That's how I finally got it together. One day I found this pool. I'd shot them before but never with the right type of film and I knew this pool was going to be really cool as no one else had skated it. I went there with Jay and Constantineau and a borrowed camera with a semi wide-angle lens and got the right film and got it all together and bam! I got my first published photo [from] that day. The thing that has always been important to me is style. I wanted to photograph the people with the most style and who got the most radical and, as it relates to music, those who have the most to say and have integrity. In the skateboarding days it was Jay Adams because he was completely unpredictable and incredible and he would get into positions that no one else would. If I could capture it on film it would usually look amazing, as evidenced in the Dogtown book that we've just put together. It shows the origins of where things come from. Tony Alva was incredible and very predictable at what he'd do but that would make it easier for me to photograph it. He had the same intensity as Jay but he would control it. Then you had guys like Paul Constantineau and Kubo, who both had great style. Everyone was good. Anyone who skates knows who the real guys were.

I had no idea that there would be any future interest in my photography. Over the last ten years I've taken it more seriously, seeing how it's inspired people. Now I take much better care of my negatives because I make a living out of photography. I manage to make a living out of my archive. I was first published at 14 but I didn't realise I was a "photographer" until my late 20's. I still take photos nowadays, just not as often. When I'm inspired to take photos, I do. I'm working on my books a lot. That keeps me really busy, but last year I was pretty involved in the film.

PEPSI AND PUNKERS!

A lot of the punk rock guys knew me from 'Skateboarder' magazine.'Skateboarder's Action Now' was a bit cheesy but it had music in it. We had [hundreds of] thousands of readers so we helped spread punk rock through that! Before that it was only covered in local fanzines. All of a sudden people in the Mid West knew of L.A. hardcore and Black Flag and punk rock. It was that magazine giving publicity to smaller bands, that helped the music and ideals spread across America from my pushing it because that was what I was interested in. I was always into music but punk rock was so vital to me. I thought it was something that I should help spread. I'd photograph the English punk bands when they'd come over and inspired me. After the Ramones I was inspired by The Buzzcocks, 999 and The Damned. There were a lot of great bands. Years later when I first saw Green Day [in a video] I thought that they were an English band. I can't understand people drawing similarities between them and The Descendents [as you said], The Descendents were very American.

I almost sang for them when Milo went to college. I tried out a couple of times but instead I made the 'My Rules' photozine. And later I produced and managed Suicidal Tendencies as well. I liked their music and the way that they mixed heavy metal and punk rock like no one else before them. Mike Muir was the little brother of Jim Muir and Jim had always looked out for me when I was a kid, even though he was a total tough guy. I've seen him beat the shit out of people, beat them to a pulp, but he was always a good guy to me. I went to junior college with Mike. He played me his demo and I helped them out. Everyone in L.A. hated them. I was helping pay back Jim and I thought that it was Dogtown on wax, so it was kind of a family obligation of sorts. I already had some connections in the music industry via my photography so I got them a deal at Frontier. I'd already shot The Adolescents and Circle Jerks albums for them, among others. Everyone thought that I was crazy for getting them a deal. I'd been in the studio with Black Flag, TSOL and others. I insisted that I would do the production, photography and pretty much everything else for them. I was 21 when we did that album. We had a budget of less than $3,000. They had done a demo that had 'Institutionalised' on it. In the original Mike asked for a Coke. I asked him to change it to Pepsi so that it wouldn't be confused with cocaine and I was also a big Pepsi drinker back then. The album was done in three and a half days. A couple of weeks later we did the cover photo. We would have been extremely happy to sell 5,000 copies. It's probably sold 500,000 copies to date. I don't think we deserved it any more than the Dead Kennedys or Black Flag or Minor Threat. They were the great important bands, what we were doing was OK, not THAT great. There was the novelty value of 'Institutionalised' getting onto MTV. It was probably the biggest hardcore punk album until Nirvana came along.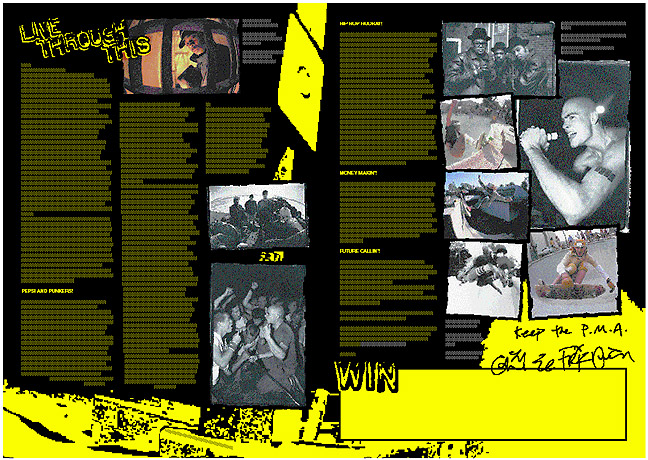 HIP HOP HOORAY!

I managed to get accepted into the Hip Hop field because my reputation preceded me. I was a big hip hop fan and I was taking photos at shows. One of the biggest breaks I had was that I knew the Beastie Boys as a punk rock band. I didn't take them very seriously back then. They were pretty bad. I was friends with them though. When they got into hip hop more, they came to L.A. and I showed them round. I really liked what they were doing and I took photos. (I'd just stopped working with Suicidal Tendencies because they got some crazy bullshit attitude with me and their own success, typical rock'n roll shit.) Everyone in New York at the RUSH office got to see the Beastie's photos so when RUN DMC came over to L.A. I was asked to work with them, to help with the rock and roll media, which they hadn't done before. They loved the photos we did together. Most of the early Hip Hop covers were horribly amateurish. I developed a rapport with those guys and they didn't want anyone else to photograph them. I saw what they were doing as the next level of punk rock. Punk had become slightly generic at the time. People like Chuck D had seen my punk rock photos. People started seeing my RUN DMC photos and I had earned this clout. Hip Hop artists wanted me to photograph them now. It was cool.


MONEY MAKIN' !
It's tough to say what excites me today. There's no one scene that you could say is as exciting as the punk and Hip Hop scenes were. They've all become co-opted to a degree. There's still hardcore that has the heart and soul. I think it's great that it's become more popular but it's also mellowed too. With the good comes the bad. I like Dead Prez, Fugazi. There are some things. I think that everything's done for money now by most new musicians. [Not just in music, but all around] It's an overused phrase; but not many people are "keeping it real" and they're screwing up the planet. The greed and lack of integrity and compassion, really will kill us all if there's not a massive change soon.


FUTURE CALLIN' !
I'll be doing different kinds of art projects I guess. I'm planning on updating the 'Idealist' book a bit. It's a twenty-year retrospective on my aesthetic, I'm adding five more years worth of work and some more words from some politico's. I also have another art project that has nothing to do with music I'm working on more than anything else. Some people are going to get it, others aren't. I really don't know what I'm going to do. Just keep my fingers crossed and hope to be as lucky as I've been.



---------------------------------------------------------------




'Dogtown and Z Boys' is out now on DVD and video thru Black Diamond Films
Essential Glen E Friedman photo journals include his 'Fuck You Heroes','Fuck You Too' and the 'Idealist' all available on Burning Flags. Also check out www.burningflags.com

El Prez







BACK to OLD PRESS ARCHIVE index