BLUNT
(from South Africa)
2006
---
Glen E. Friedman Photography 101
Q&A by Melissa Williams
GLEN E. FRIEDMAN IS A PHOTOGRAPHER THAT IS ESTEEMED FOR DOCUMENTING CAPTIVATING IMAGES OF THE PUNK, HIP HOP AND SKATE MOVEMENTS SINCE THE MID '70S, WORKING WITH ARTISTS SUCH AS RUN DMC, MINOR THREAT, BLACK FLAG AND THE Z-BOY SKATERS OF DOGTOWN. HIS NEW BOOK RECOGNIZE, HAS BEEN GARNERING INTERNATIONAL ATTENTION, IT HAS BEEN DESCRIBED AS "MONUMENTAL AND BREATHTAKING". IT'S BEEN OVER THREE YEARS SINCE WE LAST FEATURED GLEN, SO WE CAUGHT UP WITH HIM TO TALK ABOUT PHOTOGRAPHY AND HIS NEW "ART" BOOK.
How did you get your first camera?
I think it was a cheap Christmas morning Polaroid.
What inspired you to use it?
Just that I had it I guess, and wanting to create pictures like paintings or sports photographs that I admired at the time.
When you first started, was taking photos of skating an art to you or were they just images of things that interested you?
Well of course I was into capturing moments of what was my life at the time – skateboarding. The most exciting part of it anyway. But I always had some artistic sensibility since I was raised around lots of art and interesting design. It's always about things that inspire me in some way.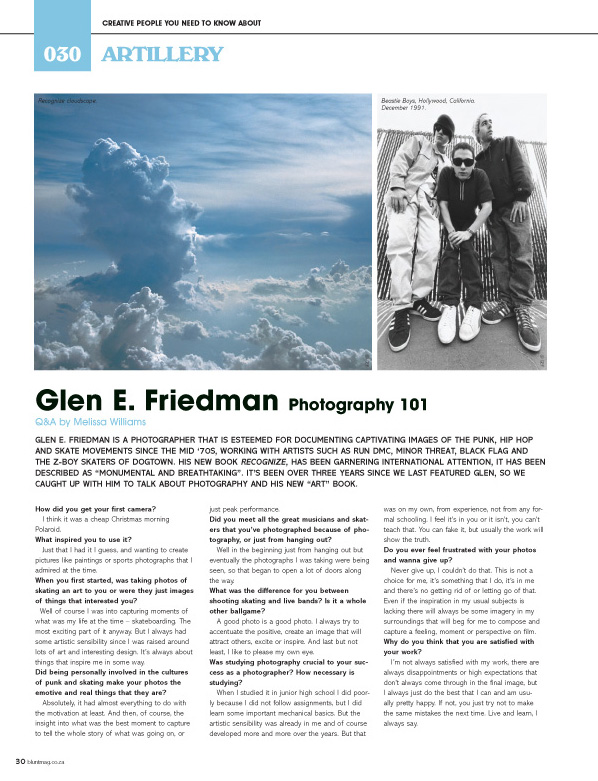 Did being personally involved in the cultures of punk and skating make your photos the emotive and real things that they are?
Absolutely, it had almost everything to do with the motivation at least. And then, of course, the insight into what was the best moment to capture to tell the whole story of what was going on, or just peak performance.
Did you meet all the great musicians and skaters that you've photographed because of photography, or just from hanging out?
Well in the beginning just from hanging out but eventually the photographs I was taking were being seen, so that began to open a lot of doors along the way.
What was the difference for you between shooting skating and live bands? Is it a whole other ballgame?
A good photo is a good photo. I always try to accentuate the positive, create an image that will attract others, excite or inspire. And last but not least, I like to please my own eye.
Was studying photography crucial to your success as a photographer? How necessary is studying?
When I studied it in junior high school I did poorly because I did not follow assignments, but I did learn some important mechanical basics. But the artistic sensibility was already in me and of course developed more and more over the years. But that was on my own, from experience, not from any formal schooling. I feel it's in you or it isn't, you can't teach that. You can fake it, but usually the work will show the truth.
Do you ever feel frustrated with your photos and wanna give up?
Never give up, I couldn't do that. This is not a choice for me, it's something that I do, it's in me and there's no getting rid of or letting go of that. Even if the inspiration in my usual subjects is lacking there will always be some imagery in my surroundings that will beg for me to compose and capture a feeling, moment or perspective on film.
Why do you think that you are satisfied with your work?
I'm not always satisfied with my work, there are always disappointments or high expectations that don't always come through in the final image, but I always just do the best that I can and am usually pretty happy. If not, you just try not to make the same mistakes the next time. Live and learn, I always say.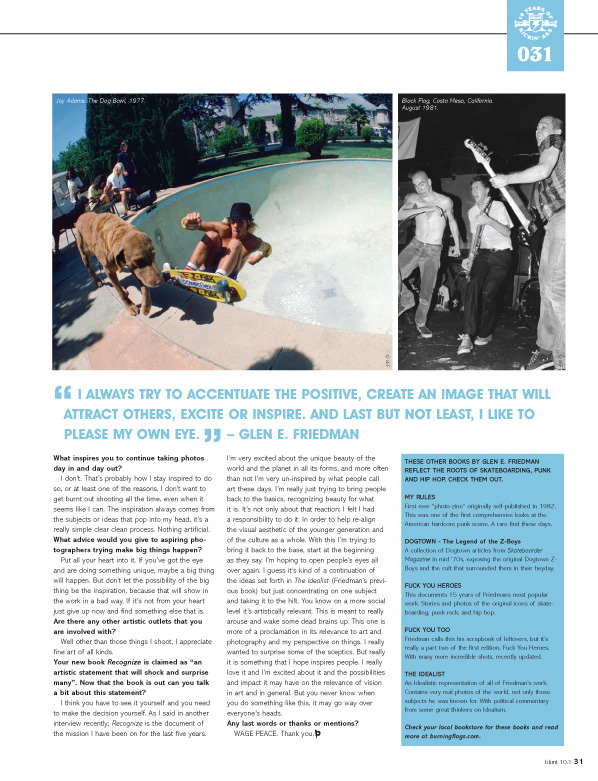 What inspires you to continue taking photos day in and day out?
I don't. That's probably how I stay inspired to do so, or at least one of the reasons. I don't want to get burnt out shooting all the time, even when it seems like I can. The inspiration always comes from the subjects or ideas that pop into my head, it's a really simple clear clean process. Nothing artificial.
What advice would you give to aspiring photographers trying make big things happen?
Put all your heart into it. If you've got the eye and are doing something unique, maybe a big thing will happen. But don't let the possibility of the big thing be the inspiration, because that will show in the work in a bad way. If it's not from your heart just give up now and find something else that is.
Are there any other artistic outlets that you are involved with?
Well other than those things I shoot, I appreciate fine art of all kinds.
Your new book Recognize is claimed as "an artistic statement that will shock and surprise many". Now that the book is out can you talk a bit about this statement?
I think you have to see it yourself and you need to make the decision yourself. As I said in another interview recently; Recognize is the document of the mission I have been on for the last five years. I'm very excited about the unique beauty of the world and the planet in all its forms, and more often than not I'm very un-inspired by what people call art these days. I'm really just trying to bring people back to the basics, recognizing beauty for what it is. It's not only about that reaction; I felt I had a responsibility to do it. In order to help re-align the visual aesthetic of the younger generation and of the culture as a whole. With this I'm trying to bring it back to the base, start at the beginning as they say. I'm hoping to open people's eyes all over again. I guess it's kind of a continuation of the ideas set forth in The Idealist (Friedman's previous book) but just concentrating on one subject and taking it to the hilt. You know on a more social level it's artistically relevant. This is meant to really arouse and wake some dead brains up. This one is more of a proclamation in its relevance to art and photography and my perspective on things. I really wanted to surprise some of the sceptics. But really it is something that I hope inspires people. I really love it and I'm excited about it and the possibilities and impact it may have on the relevance of vision in art and in general. But you never know when you do something like this, it may go way over everyone's heads.
Any last words or thanks or mentions?
WAGE PEACE. Thank you.
BACK to OLD PRESS ARCHIVE index