Dazed & Confused
February 2008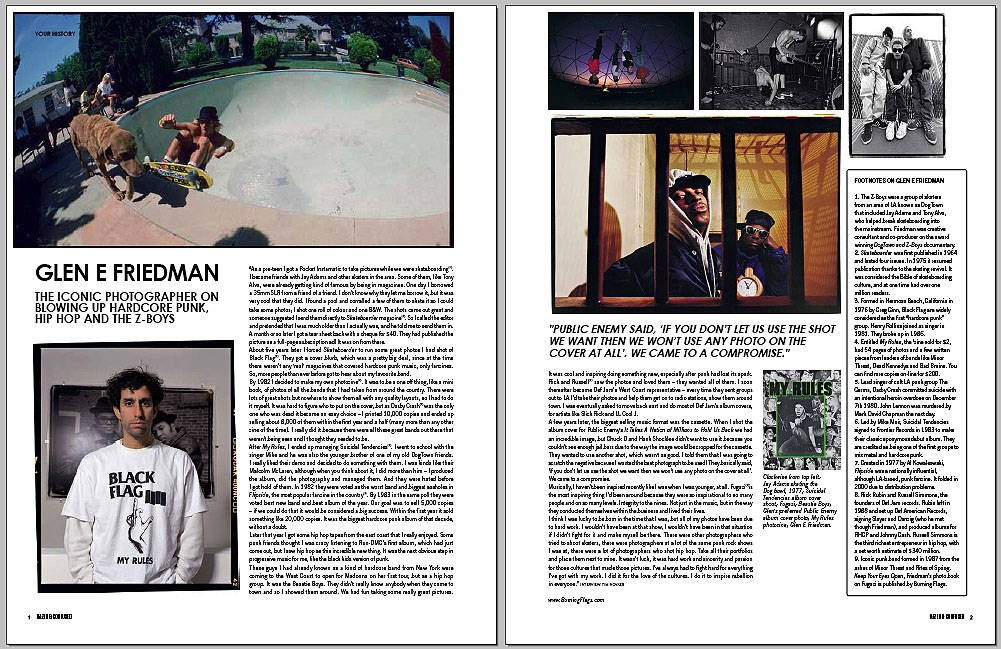 Glen E. Friedman
The iconic photographer on blowing up hardcore punk, hip hop and the Z-boys
"As a pre-teen I got a Pocket Instamatic to take pictures while we were skateboarding1. I became friends with Jay Adams and other skaters in the area. Some of them, like Tony Alva, were already getting kind of famous by being in magazines. One day I borrowed a 35mm SLR from a friend of a friend. I don't know why they let me borrow it, but it was very cool that they did. I found a pool and corralled a few of them to skate it so I could take some photos; I shot one roll of colour and one B&W. The shots came out great and someone suggested I send them directly to Skateboarder magazine2. So I called the editor and pretended that I was much older than I actually was, and he told me to send them in. A month or so later I got a tear sheet back with a cheque for $40. They had published the picture as a full-page subscription ad! It was on from there.
About five years later I forced Skateboarder to run some great photos I had shot of Black Flag3. They got a cover blurb, which was a pretty big deal, since at the time there weren't any 'real' magazines that covered hardcore punk music, only fanzines. So, more people than ever before got to hear about my favourite band.
By 1982 I decided to make my own photozine4. It was to be a one off thing, like a mini book, of photos of all the bands that I had taken from around the country. There were lots of great shots but nowhere to show them all with any quality layouts, so I had to do it myself. It was hard to figure who to put on the cover, but as Darby Crash5 was the only one who was dead it became an easy choice – I printed 10,000 copies and ended up selling about 8,000 of them within the first year and a half (many more than any other zine of the time). I really did it because there were all these great bands out there that weren't being seen and I thought they needed to be.
After My Rules, I ended up managing Suicidal Tendencies6. I went to school with the singer Mike and he was also the younger brother of one of my old DogTown friends. I really liked their demo and decided to do something with them. I was kinda like their Malcolm McLaren, although when you think about it, I did more than him – I produced the album, did the photography and managed them. And they were hated before I got hold of them. In 1982 they were voted as the worst band and biggest assholes in Flipside, the most popular fanzine in the country7. By 1983 in the same poll they were voted best new band and best album of the year. Our goal was to sell 5,000 copies – if we could do that it would be considered a big success. Within the first year it sold something like 20,000 copies. It was the biggest hardcore punk album of that decade, without a doubt.
Later that year I got some hip hop tapes from the east coast that I really enjoyed. Some punk friends thought I was crazy listening to Run-DMC's first album, which had just come out, but I saw hip hop as this incredible new thing. It was the next obvious step in progressive music for me, like the black kids version of punk.
These guys I had already known as a kind of hardcore band from New York were coming to the West Coast to open for Madonna on her first tour, but as a hip hop group. It was the Beastie Boys. They didn't really know anybody when they came to town and so I showed them around. We had fun taking some really great pictures.
It was cool and inspiring doing something new, especially after punk had lost its spark. Rick and Russell8 saw the photos and loved them – they wanted all of them. I soon thereafter became Def Jam's West Coast representative – every time they sent groups out to LA I'd take their photos and help them get on to radio stations, show them around town. I was eventually asked to move back east and do most of Def Jam's album covers, for artists like Slick Rick and LL Cool J.
A few years later, the biggest selling music format was the cassette. When I shot the album cover for Public Enemy's It Takes A Nation of Millions to Hold Us Back we had an incredible image, but Chuck D and Hank Shocklee didn't want to use it because you couldn't see enough jail bars due to the way the image would be cropped for the cassette. They wanted to use another shot, which wasn't as good. I told them that I was going to scratch the negative because I wanted the best photograph to be used! They basically said, 'if you don't let us use the shot we want then we won't use any photo on the cover at all'. We came to a compromise.
Musically, I haven't been inspired recently like I was when I was younger, at all. Fugazi9 is the most inspiring thing I'd been around because they were so inspirational to so many people and on so many levels. Integrity to the nines. Not just in the music, but in the way they conducted themselves within the business and lived their lives.
I think I was lucky to be born in the time that I was, but all of my photos have been due to hard work. I wouldn't have been at that show, I wouldn't have been in that situation if I didn't fight for it and make myself be there. There were other photographers who tried to shoot skaters, there were photographers at a lot of the same punk rock shows I was at, there were a lot of photographers who shot hip hop. Take all their portfolios and place them next to mine. It wasn't luck, it was hard work and sincerity and passion for those cultures that made those pictures. I've always had to fight hard for everything I've got with my work. I did it for the love of the cultures. I do it to inspire rebellion
---
FOOTNOTES ON GLEN E FRIEDMAN
The Z-Boys were a group of skaters from an area of LA known as DogTown that included Jay Adams and Tony Alva, who helped break skateboarding into the mainstream. Friedman was creative consultant and co-producer on the award winning DogTown and Z-Boys documentary.
Skateboarder was first published in 1964 and lasted four issues. In 1975 it resumed publication thanks to the skating revival. It was considered the Bible of skateboarding culture, and at one time had over one million readers.
Formed in Hermosa Beach, California in 1976 by Greg Ginn, Black Flag are widely considered as the first "hardcore punk" group. Henry Rollins joined as singer in 1981. They broke up in 1986.
Entitled My Rules, the 'zine sold for $2, had 54 pages of photos and a few written pieces from leaders of bands like Minor Threat, Dead Kennedys and Bad Brains. You can find rare copies on-line for $200.
Lead singer of cult LA punk group The Germs, Darby Crash committed suicide with an intentional heroin overdose on December 7th 1980. John Lennon was murdered by Mark David Chapman the next day.
Led by Mike Muir, Suicidal Tendencies signed to Frontier Records in 1983 to make their classic eponymous debut album. They are credited as being one of the first groups to mix metal and hardcore punk.
Created in 1977 by Al Kowaleswski, Flipside was a nationally influential, although LA-based, punk fanzine. It folded in 2000 due to distribution problems.
Rick Rubin and Russell Simmons, the founders of Def Jam records. Rubin left in 1988 and set up Def American Records, signing Slayer and Danzig (who he met though Friedman), and produced albums for RHCP and Johnny Cash. Russell Simmons is the third richest entrepreneur in hip hop, with a net worth estimate of $340 million.
Iconic punk band formed in 1987 from the ashes of Minor Threat and Rites of Spring. Keep Your Eyes Open, Friedman's photo book on Fugazi is published by Burning Flags.
---
BACK to OLD PRESS ARCHIVE index