SF WEEKLY

"Fuck You All": Glen Friedman's punk and hip-hop photos are meant to inspire
By Keith Bowers
published: November 03, 2010
Glen Friedman grew up on the front lines of the West Coast punk rock, skateboarding, and rap scenes. Photographs he shot in the 1970s and '80s are considered to be the definitive portraits of the likes of the Dead Kennedys, Black Flag, and Run-DMC. The now-legendary photographer brings his ongoing exhibition, "Fuck You All," to San Francisco this week, which includes previously unpublished shots of Jello Biafra — frontman of S.F. punk pioneers the Dead Kennedys — and a collaborative portrait of Henry Rollins he did with illustrator Shepard Fairey. So is this a reunion tour of sorts? Maybe an attempt to relive former glory, look fondly back on the past, or show up a generation that just doesn't get it?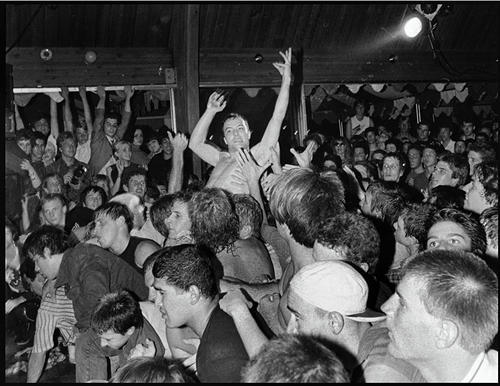 Fuck no. In fact it's the opposite: "I'm trying to kick their ass into doing something new," Friedman says.
See, Friedman is all about inspiration. He's a hardass directly from the days when D.I.Y. wasn't a chosen ethic but the only choice for personal expression and survival, from a time when violence was omnipresent and economic opportunities were scarce. He saw beauty in the rage of Rollins and the moves of skateboarder Tony Alva, so he took up a camera and relayed what he saw — not just to his scene, but to the world.
Now, with "Fuck You All," which includes more than 50 photographs, he wants to pass on that energy to a new generation. For people familiar with Friedman's books, including Fuck You Heroes, they will recognize — and maybe even remember firsthand — a lot of the subject matter. "But if you haven't seen it, I think you've got a lot to learn," he says. Friedman hopes that by seeing how a group of rebellious youth changed Western culture, young people will be inspired to start their own social and artistic movements.
In addition to publishing books, Friedman has had his photographs accepted by the Smithsonian Institution. He says the Metropolitan Museum of Art in New York City also recently approached him for a couple of prints.
Shot mostly in black and white, Friedman's musical subjects include Minor Threat, Fugazi, Bad Brains, the Beastie Boys, Public Enemy, and LL Cool J. Skateboard legends he has shot include Duane Peters and Jay Adams, as well as Alva.
For the most part, Friedman has now stopped photographing music acts and skaters, leaving that up to the younger generation. He's turned more toward artistic photography, some of which is included in his book, The Idealist. Staying true to that book's title, Friedman has taken "Fuck You All" around the world. Starting in London in 1997, the exhibit has brought the fire of these California subcultures to cities including Tokyo; Rome; Berlin; Washington, D.C.; Philadelphia; Krakow, Poland; and most recently Dublin, Ireland. He adjusts the show with each stop, adding whatever he can to make it fit the host city. In Dublin, for example, he included photos of the late "Baby Paul" Cullen, one of the original Z-Boys skate team who was also of Irish descent. "It inspires people everywhere," Friedman says, "and that's what's so great about it."
The San Francisco version of "Fuck You All," which runs Nov. 6 through Dec. 31 at 941 Geary, will include previously unpublished shots of Jello Biafra, one of the most politically minded — and notorious — characters of the era. It will also include shots of former Thrasher magazine writer Rick Blackhart. The photos were taken in a skatepark across the bay in Newark while Blackhart test-rode prototype skateboard trucks made by Independent, now among the biggest skateboard manufacturers.
The show also contains several collaborative works between Friedman and Fairey, best known for his "Obey" poster featuring a likeness of Andre the Giant, and his "Hope" poster featuring Barack Obama. For the collaborations, Fairey applied painting and illustration techniques on Friedman photos. The original photographs as well as the collaborative works are displayed, the first time they've been seen side by side. At least five Friedman-Fairey hybrids are on hand, including portraits of Henry Rollins, Public Enemy, Bad Brains, Tony Alva, and civil rights activist and professor Cornel West. Friedman says he and Fairey plan to release the Rollins portrait for sale as a poster on Feb. 13, 2011 — Rollins' 50th birthday.
It was Friedman's friendship with Fairey that led "Fuck You All" to San Francisco's 941 Geary gallery. It's owned by Justin Giarla, who also runs the Shooting Gallery and White Walls. Friedman had a show at Fairey's gallery in Los Angeles, and Giarla traveled to see it and bought three prints for his personal collection. After the show, Friedman called to thank him and put out the offer of working together. When Giarla got the space for 941 Geary, he called Friedman and proposed the show.
Giarla said Friedman's work helped shape the person he is. "I grew up learning about three of my favorite things through his camera lens – skateboarding, punk rock, and then hip-hop," he says.
For Friedman, this type of involvement is crucial to a venue landing "Fuck You All." He says it's not about the status or the size of the gallery or museum that wants the show, but rather whether the individuals hosting the exhibit are motivated by his work and message above commercial interests.
Friedman remains close to a lot of the people he photographed, including Biafra and Rollins, who are both still politically and artistically active. These lasting ties are no surprise, considering that Friedman puts his personal ethos and artistic standards first, shooting only those people he liked. "I still appreciate and respect what he continues to do," Friedman says of Biafra. "He was one of the biggest inspirations to me."