'By Any Means Necessary' - Mid 60's Englewood, New Jersey - photo from family archive
Standing on a bench next to inspirational friend and idol, Dock Ellis. Early 70's in the club house locker room at Shea Stadium, NY - photo by Al Oliver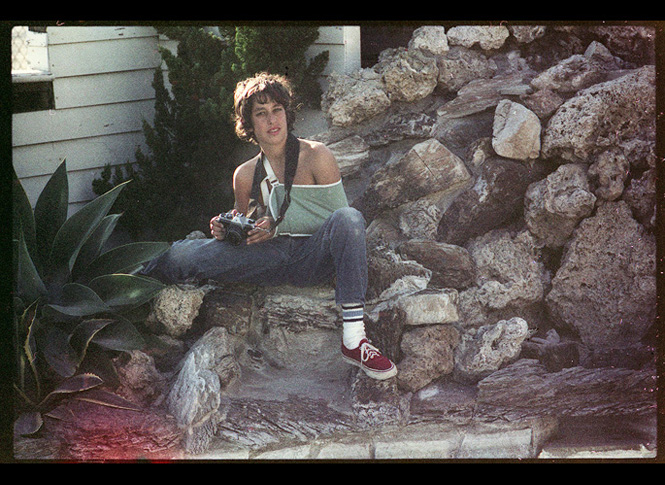 Poolside, shooting pictures, in Santa Monica at Arthur Lake's. October 1976 - Photograph by Hugh Holland
Shooting at Surf de Earth skatepark, Vista California 1977 - Still from video shot by Ray Allen
Self portrait on Sunset Blvd circa 1978
Portrait shot by 'King' James Cassimus circa 1980
GEF (to the right) on stage shooting the Misfits, circa 1982 - photo by Allison 'Mouse' Braun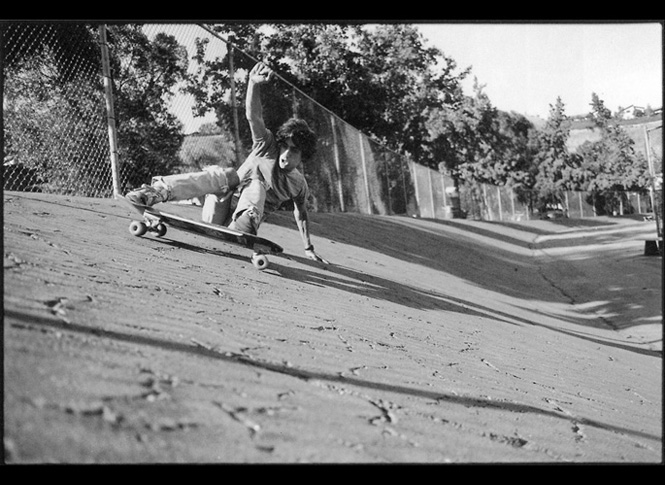 GEF skating the banks, circa 1982 - Photograph by C.R. Stecyk III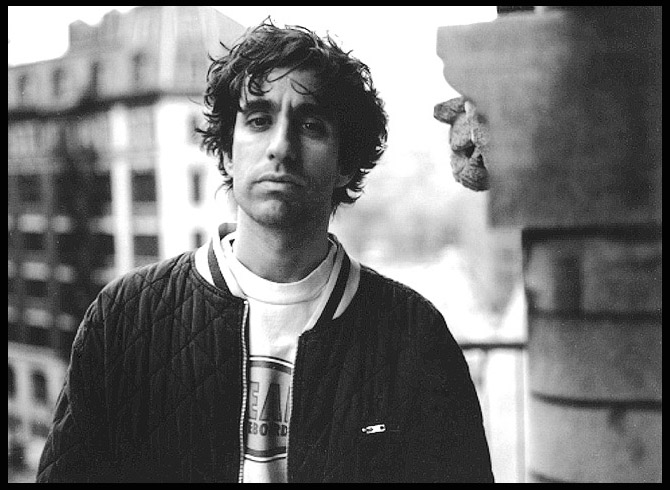 Portrait shot by Brett Ratner, NYC circa 1991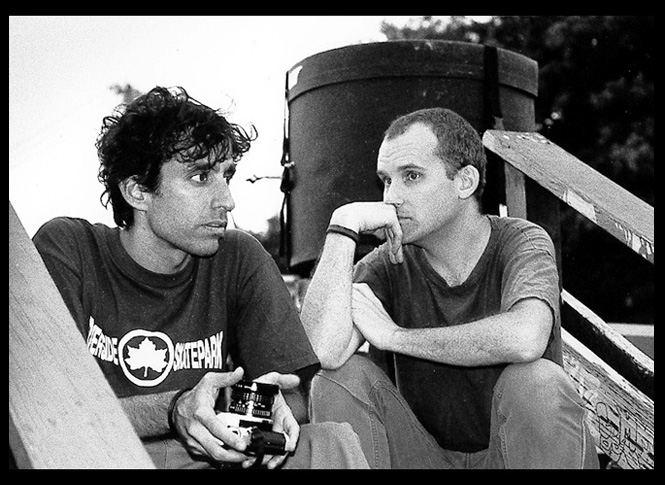 GEF and Ian MacKaye at Fort Reno in Washington DC, 1994 - Photograph by Kurt Sayenga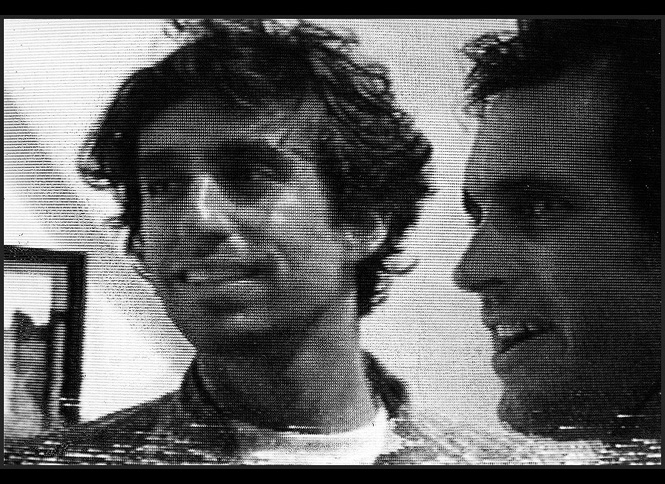 GEF and Steve Olson at the first gallery show for the premiere 'Fuck You Heroes' exhibition. Fall 1994. Still from video by Rose Tarlow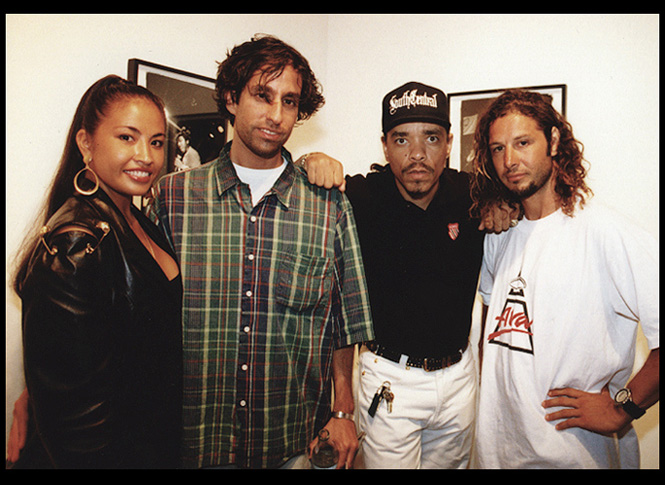 Darlene Ortiz, GEF, ICE-T, and Tony Alva at the premiere 'Fuck You Heroes' exhibition, Fall 1994
Behind the scenes at the 'Fuck You All' exhibition in Tokyo, Japan 1998 - Portrait photograph by Taiske Yokoyama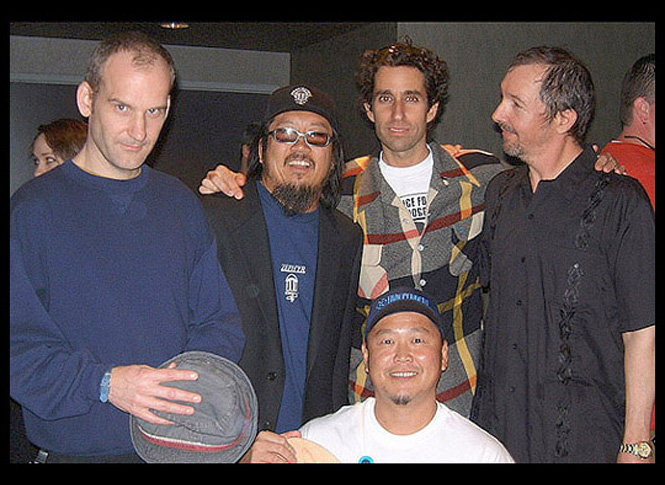 At the premiere of 'DogTown & Z-Boys' with Ian MacKaye, Jeff Ho, Chuck Dukowski, and Shogo Kubo. Hollywood, California 2001
Sitting between two favorite authors at the British Museum Library, London, circa 2002
Midway through the RECOGNIZE project, circa 2003 - photo by Vida Dominguez
In front of the 'Liberty Street Protest' at the World Trade Center 'Ground Zero' during the 2004 RNC convention in New York City - photo by Danny Boy O'Connor
At the premiere 'Beautiful Losers' opening, Contemporary Arts Center (Cincinnati) 2004 - Portrait photograph by Michael O'Meally
S1W James Bomb, Glen E. Friedman, Hank Shocklee, Chuck D. and S1W Pop Diezel, at the NYU in-depth discussion event on the making of hip-hop's greatest album 'Public Enemy's It Takes A Nation of Millions to Hold Us Back'. New York, 2005 - Photo by Jo-Ann Nina
Idealist Propaganda retrospective opening, 2008 - Photograph by Lorenzo de Guia
Still gettin' down to get the shot. Venice, California 2009 - photo by Vida Dominguez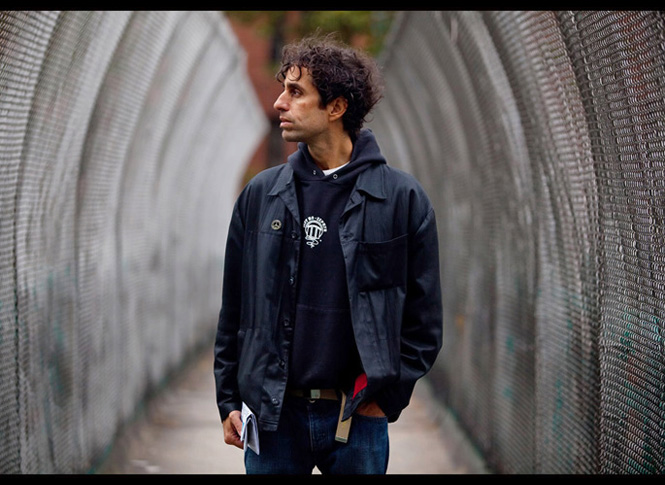 Portrait 2010 - Photograph by Darren Wellhoefer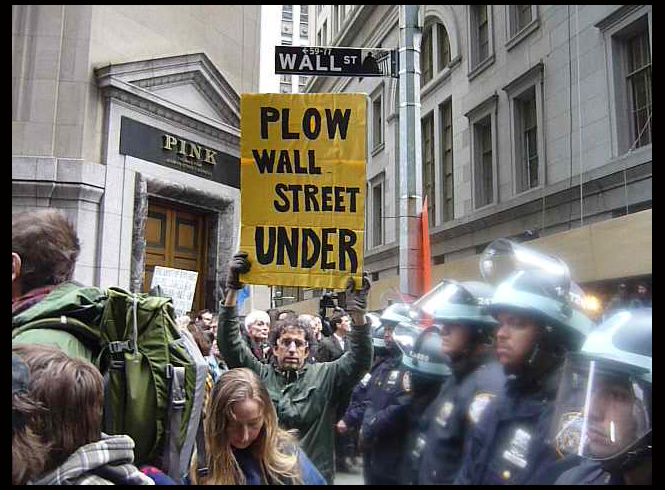 'November 17th Day of Action' 2011 - Protest at WALL Street #OWS - photo by Simone Reyes
Special Thanks to all the photographers who allowed use of these photos on the website.
Glen E. Friedman (born 1962) has long been considered a vital part of the modern cutting-edge subcultures. His photography goes far beyond simply documenting the scenes and key players of the skate, punk and early hip-hop cultures; he provides firsthand insight into the science of defiance that drove the progression and art of the participants.
Working with such rebellious artists as Fugazi, Black Flag, Ice-T, Dead Kennedys, Minor Threat, Misfits, Bad Brains, Beastie Boys, Run-DMC and Public Enemy as well as classic skateboarding originators such as Tony Alva, Jay Adams, Alan Gelfand, Duane Peters and Stacy Peralta. among others, Friedman has been in the right place at an extraordinary number of appropriate times. He's not only provided the definitive portraits of many of these people, but also has helped define the moment and movements he was caught up in. His process was much more incendiary than it was documentary. According to Henry Rollins, "The bottom line is that he was there at the beginning of so much cool stuff in so many different areas it's not funny."
Glen E. Friedman's captivating images demonstrate his remarkable eye for raw reality, talent and aesthetic beauty. Considered legendary by many, he is, without doubt, one of this generation's most discerning and important photographers. Friedman has documented like no one else.
Born in North Carolina while his father was serving a short stint in the Army at Fort Bragg, Friedman and his family soon returned to northern New Jersey, where Glen spent a large part of his childhood off and on. When his parents divorced, his mother took him and his younger brother to live in California. At this point in time he would spend the school year in Los Angeles and then visit his father in the New York City/New Jersey area during vacations, until the situation was reversed for his last two years of high school.
Never a great student, Glen always got by and was one of those kids about whom the teachers said, "If he'd only apply himself a bit more he'd be an 'A' student."
Even from a young age he always seemed to have his own agenda; as a nine-year-old he held a very aggressive anti-Vietnam War stance, and at ten proudly supported George McGovern for president on his clothing. He always stood up for the rights of his friends, particularly those more shy than himself, and from an early age he could not stand by to see others taken advantage of in any way.
When his mother remarried and they moved to the affluent area of Brentwood in West Los Angeles, Glen was thrust into a frustrating world of "blue blood" elitists and spoiled brats, which quickly led to him discovering a crew of older kids from outside this neighborhood.
Friedman's childhood was largely spent hanging out and skating in the legendary West L.A. schoolyards of the area affectionately known as DogTown. His friends were beginning to be featured in magazines as top skateboarders, but Friedman felt the images failed to capture the true essence of what he was witnessing on a daily basis. Sharing the skaters' attitude–that they were completely able to redefine what the sport was–he thought that even though still in junior high school, he could do a better job behind the camera.
In the spring of '75 he took a photography class with his "Pocket Instamatic" and refused to use a more professional 35mm camera, not simply because he did not own one, but also because he would be afraid to break or lose it, and of course with the Pocket Instamatic he could still hang out and skate without much concern. He started snapping pictures of his friends and even submitted them to skateboard manufacturers hoping they would use them in advertisements in SkateBoarder magazine, thinking at the time there was no way he could go directly to the editorial staff of skateboarding's leading publication. Forgetting for the most part about his class assignments, he learned all about cameras and the basics of good photography, but continued shooting only the subjects he wanted to, hence gaining a "D" in "Photography 1.″
In the fall of 1976, Friedman discovered an empty swimming pool, and corralled a few friends (the infamous Jay Adams among them) into riding it so he could take pictures with a borrowed 35mm camera. He showed the results to a freelance SkateBoarder photojournalist (C.R. Stecyk III) he met at the local schoolyard, who put the eighth-grader in touch with the magazine's editor. SkateBoarder published the first photos Glen ever submitted, one as a full-page subscription ad (just months after he got that "D"), and he soon became the magazine's youngest staff member.
The magazine was having an effect on youth culture worldwide, and in turn Friedman became somewhat of an underground cult figure for being one of the main contributors of the hardcore action, and a very young contributor at that. It was here that Friedman began learning the realities of the photography world, and began setting his path for the years to come.
Several years later Friedman began to shoot photos at the punk shows he was attending. It was inspiring to him to be so close to the bands and their intense energy. Glen was passionately loyal to his subjects, and relentlessly devoted to winning them exposure in order to expose others to the ideals of these artists, at first in the skate magazines, and later in fanzines and music magazines. Proto-punks such as Black Flag, Bad Brains, Minor Threat and others received some of their first national and international media documentation through Friedman's work.
The political views and progressive perspectives of the hardcore punk bands educated Friedman. He attempted to gain them exposure in major news and music publications as well, to no avail at the time. It was the DIY (do it yourself) work ethic he picked up from hanging out and working with Black Flag that got Friedman, in 1982, to self-publish his photo-zine MY RULES. It sold 10,000 copies and was the largest-selling zine of the era.
In 1983 Friedman broadened his artistic scope and produced Suicidal Tendencies' debut album. He became their manager and of course handled all of their photography, promotion and marketing. By 1984 he had helped to direct and edit their first video for "Institutionalized," the song he produced, and relentlessly promoted it until it got them on MTV, the first hardcore punk band ever to be in rotation on the channel. Despite the album he produced eventually becoming the biggest-selling hardcore punk album of the decade, conflicts between Glen and the band arose and he quit, deciding to stay away from that sort of involvement in the music world.
Friedman continued thinking of new outlets for his enthusiasm and work, soon meeting up with old friends the Beastie Boys on their first trip to Los Angeles, now as a rap group instead of a punk band. On this trip he created some of the most memorable Beastie Boys photos ever taken, and was introduced to Rick Rubin and Russell Simmons, who loved his work, attitude, understanding of and interest in the culture of hip-hop.
By 1985, Friedman was photographing all the Def Jam artists, all the while attending college classes at UCLA up until 1986, working on a self-prescribed course of general education by studying what he felt would best broaden his knowledge. In 1987 he made the decision to move back to New York full time.
His early documentation of Run-DMC, Public Enemy, Ice-T, L.L. Cool J and the Beasties brought hip-hop to a wider audience, thanks in part to the connections he had made in the music business with the punk bands. His work achieved fame as record covers for many of the decade's finest in hip-hop and punk. Many of his photographs are recognized as the subjects' definitive portraits.
In 1986 Glen began reading flyers and pamphlets given to him by punk friends, educating him to the environmental and health concerns associated with a typical American diet. Glen had grown up eating meat and the normal junk food fare of his age group–in fact he at one time loved eating at fast food chains, and was happy to eat a "bloody steak" on occasion. By 1987 he had begun to read the book Diet for a New America; before he was finished, he had completed making the transition to a vegan diet and lifestyle, which he still practices and actively promotes to this day.
Throughout the rest of the 80′s and early 90′s Friedman was making a living shooting musicians and solidifying his reputation as one of the most important photographers emerging from this new milieu. With this notoriety he became even more outspoken about his own political views, and began influencing many of those subjects and others who were around him or seeing his work. People began to notice that all of these cultures Glen was involved in promoting were having a large influence on the culture as a whole. The work he set out to do with all of these individuals was inspiring legions.
By 1994, Friedman had published FUCK YOU HEROES on his Burning Flags Press imprint, beginning a path of fiercely independent artistic production. A collection of his work spanning 1976 to 1991, HEROES looked at the pioneering leaders of the skateboarding, punk and hip-hop subcultures that he was so much a part of. Its title, though offensive to some, signifies his subjects' bold, forthright, heroic rejection of reactionary social standards. His second book, FUCK YOU TOO: The Extras & More Scrap Book, was published in 1996 (and was subsequently updated in 2004).
The FUCK YOU ALL exhibition, combining photos from both of those first two books, brought Friedman's work to major cities around the world, beginning in 1997 at the Institute of Contemporary Art in London, then on to Sydney, Tokyo, Florence, Rome, Milan, Sicily, Berlin, Stockholm, Chicago, Washington DC, Philadelphia, Los Angeles and in more recent years to Antwerp, Krakow, Dublin and San Francisco.
In 1998, Glen followed up with the publication of The Idealist: In My Eyes – Twenty Years, which he considers the artistic summation of his photography, a perspective on his own artistic aesthetic that at times diverges greatly from his other known work but gives the viewer an insight into his personal vision. This book was revised in 2003 to include an additional five years of photography, as well as comments written specifically for this book by a few more subjects who had also inspired him, including Ralph Nader and Professor Cornel West. In 2000, the book DogTown – The Legend Of The Z-Boys was co-authored with C.R. Stecyk III, and edited and designed by Friedman.
Glen's film credits, co-producer and creative consultant, barely touch on the major influence he had on the 2002 feature-length documentary DogTown and Z-Boys, which won the audience choice award for Best Documentary at Sundance and additional awards at several other festivals. He also appears as one of the main commentators in the film itself.
In 2004 Friedman created the "Liberty Street Protest" for millions who visit the former World Trade Center site from around the world, to see at Ground Zero in New York City. Its provocative anti-war sentiment, made up of 27 huge window banners in an 11-story building, was displayed through the republikkkan convention of that year, and received attention worldwide.
His book RECOGNIZE was released in 2005, an artistic statement that shocked and surprised many, garnered critical praise but has still only been seen by a small percentage of those who know his more popular work. 2006 saw Friedman collaborating with old DogTown friend Jay Adams to edit and design the book JAY BOY. Made up entirely of early photographs taken by Jay's stepfather and Z-Flex founder Kent Sherwood, the book provides a unique insight into the life of one of the defining figures of modern skateboarding.
Before becoming a father in 2007, Glen put the finishing touches on and soon after released Keep Your Eyes Open -The Fugazi Photographs of Glen E. Friedman, a collection of his live and portrait work of his good friends, and one of the independent music scene's most influential acts.
In 2009 Glen had his first ever career retrospective open at Shepard Fairey's Subliminal Projects gallery in Los Angeles. The success of this brought about another collaboration with now-infamous street artist/propagandist Shepard Fairey and Glen E. Friedman, adding to the several projects they'd already done in previous years (and continue to do) that have used Glen's iconic images.
In 2010 some half dozen original prints of Glen's covering all aspects of his oeuvre were requested, and subsequently accepted into, the Photographic History Collection of the National Museum of American History at the Smithsonian Institution in Washington D.C. And most recently original prints of his work were acquired for the photography collections of the Metropolitan Museum of Art in New York City and the Berkeley Art Museum and Pacific Film Archive.
By 2014 Glen's work had also been added to the permanent collections of many other prestigious institutions including The New York Public Library, Photography collection of the Pierpont Morgan Library & Museum, University of California at Los Angeles Library of Special Collections, The International Center for Photography, The Wolfsonian at FIU Museum, Emory University, Harvard University, Cornell University, Stanford University Libraries, and The Museum of Fine Arts Houston.
Early in 2014 the film "No-No: A DOCKumentary" premiered at the Sundance film festival, then many other festivals and general release theaters by the fall, all with great reviews. Glen was an associate producer and creative advisor on the film
The final stop for the FUCK YOU ALL exhibition was held in Spain during the summer of 2014.
Fall 2014 saw the release of Glen E. Friedman's most incredible monograph to date: MY RULES the book, published by Rizzoli International. Followed by the launch of the MY RULES exhibition in London to incredible crowds for nine weeks! Plans for the exhibition to tour the globe are in the works.
2015 brought us another GEF and Shepard Fairey collaboration. In celebration of the MY RULES publication, Fairey's OBEY clothing released internationally, a line of goods emblazoned with Fairey's iconography of several Friedman's photographs of favorite subjects.
And if that wasn't enough, Friedman's Burning Flags Press sponsored his son's Little League Baseball team!
written by Kirk Gee