Beautiful Losers Inaugural exhibition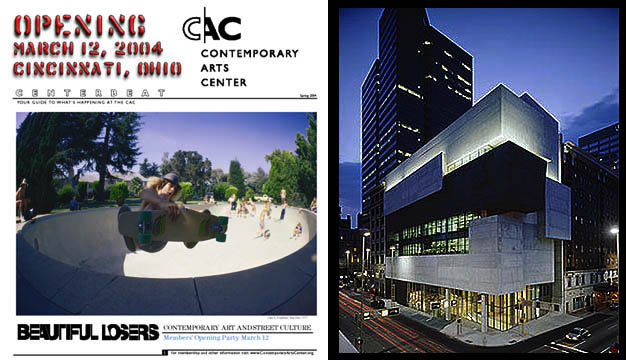 Glen is participating in a group show "Beautiful Losers" that takes an in depth look at contemporary art and street culture. It opened at the Contemporary Arts Center in Cincinnati, Ohio, in 2004 and since has been traveling around the united states and the world.
The exhibition brings together artists from multiple disciplines, whose works are inspired by various aspects of urban life and street culture. Included are painters, sculptors, photographers, filmmakers, performance artists, graphic designers, illustrators and multimedia artists. The exhibition is organized in five sections: One section is devoted to examining those artists who have had direct influence on the development of the generation of artists and designers that is the focus of the exhibition. This section will include paintings, drawings, photographs, graphics, and samples and documentation of early works by Jean-Michel Basquiat, Andy Warhol, Neil Blender, Henry Chalfant, Larry Clark, R. Crumb, Glen E. Friedman, Raymond Pettibon, Pushead, and Craig R. Stecyk III; and the hand-painted skateboards of DogTown's Wes Humpston.
view or download the CAC newsletter HERE