Jam Master Jay R.I.P.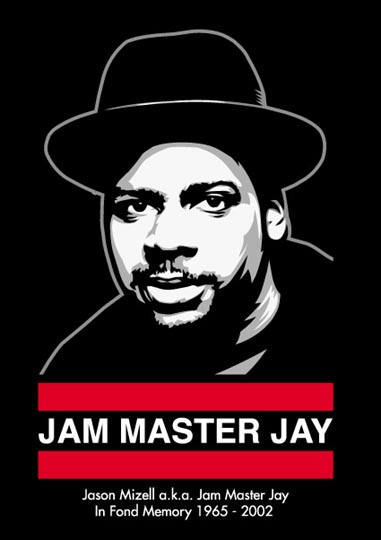 We were all very saddened to hear about the horrible senseless death of our friend Jason Mizell a.k.a. Jam Master Jay. Glen created this icon as a collaboration with Shepard Fairey and Sean Bonner in tribute. Our best thoughts and memories go out to his family, friends and fans. Here are some classic un-released images of Jay and Run-DMC shot by GEF.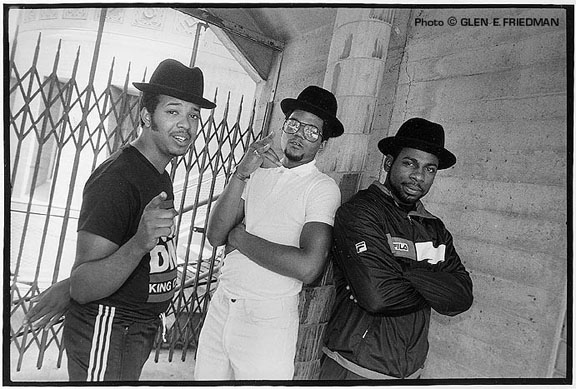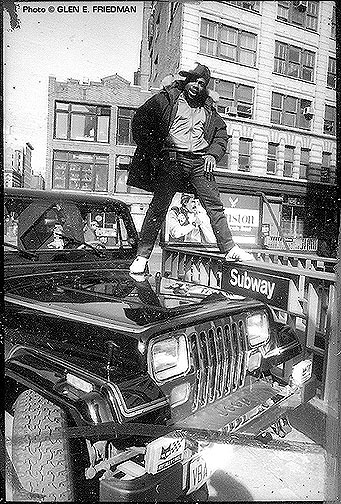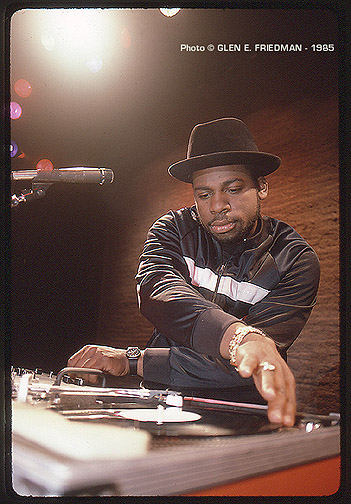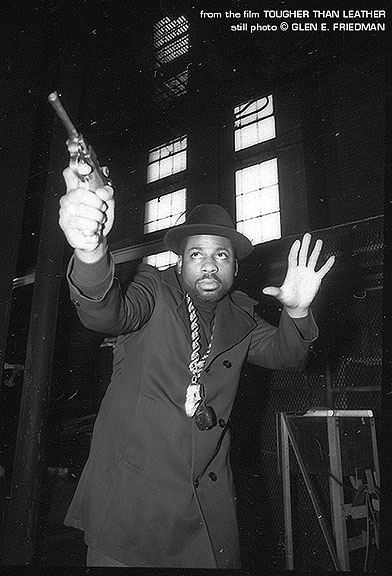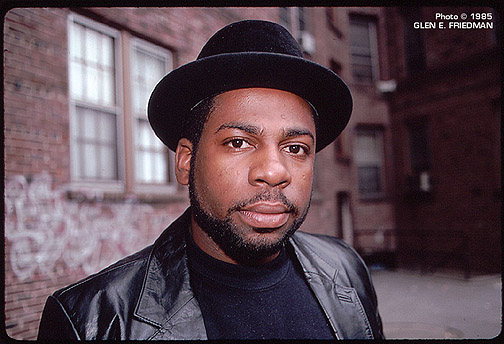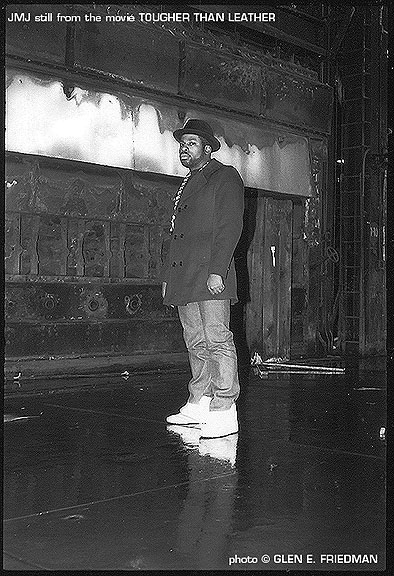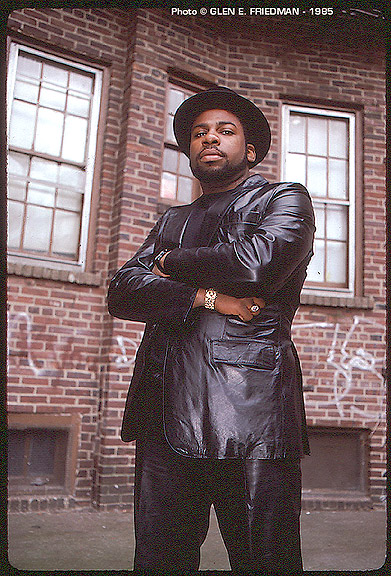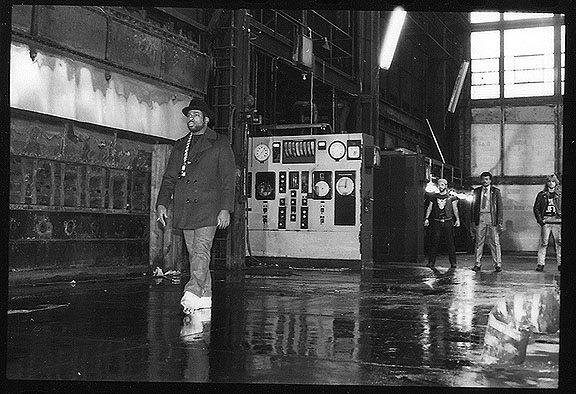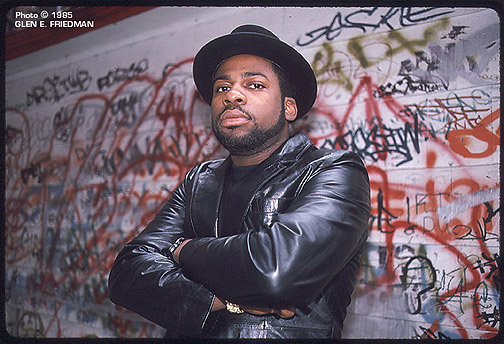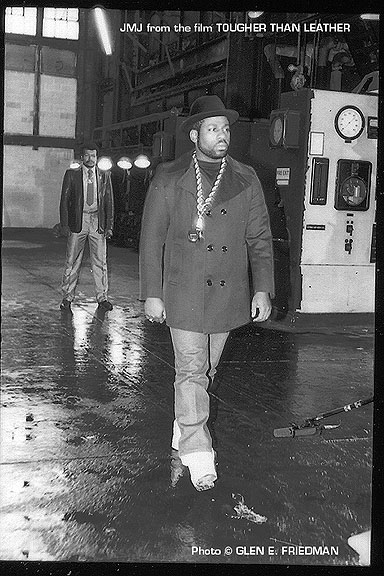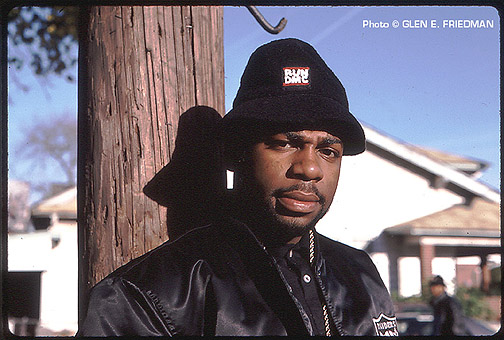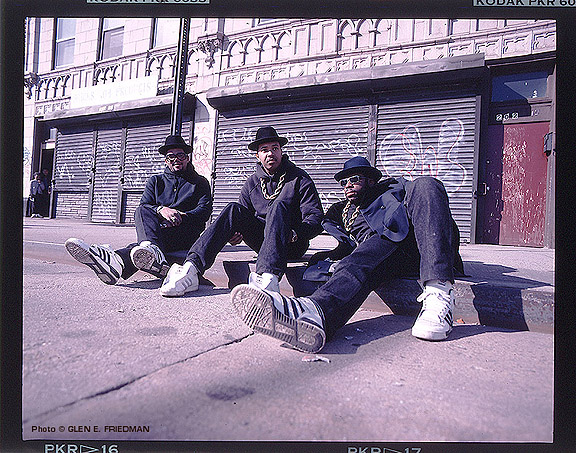 JASON MIZELL 
a.k.a.
JAM MASTER JAY
Previously unpublished photographs
shot by Glen E. Friedman 
Jason was a great guy, one of the nicest, most down to earth, in all of hip hop. For all the years I knew him he always greeted me with a big hug and a smile. He was open minded to all.
It was when I heard his namesake song "JAM MASTER JAY", when the 1st RUN-DMC album came out, that I knew I was going to really get into hip hop in the way that I did. The dynamic of that song was truly inspirational to me, it kicked my ass!
Within a year or so RUN, DMC, JAY and I became good friends. I remember the first time Jay and I were driving in my Honda together somewhere around L.A., it had to be just around the time the 2nd album was dropping and I played him the BAD BRAINS, trying to get him to relate to my recent musical background. He would remind me of that time often over the years.
Jason was so nice, he even became a great friend to my younger brother, who will miss him horribly as well as I and anyone else who ever met him or listened to his records.
Below are some of my favorite and or interesting previously un-published shots of Jay that I have dug out of my files for y'all to enjoy…
JMJ, may he rest in peace.
Glen E. Friedman
November 2002 
*******************************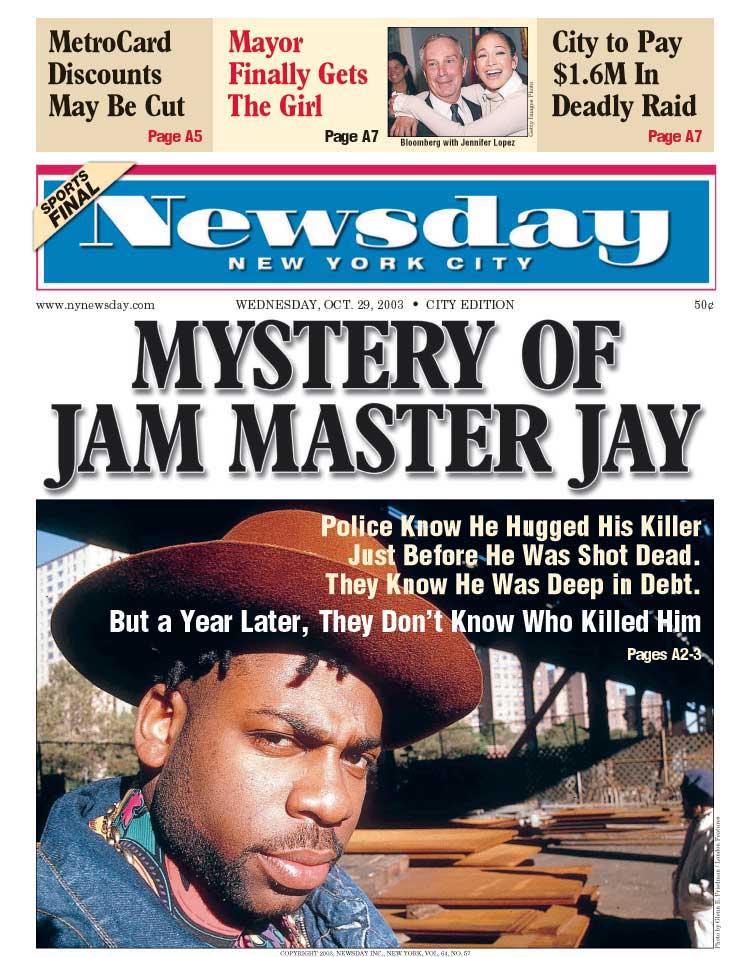 A Star's Death Unsolved 
Cops: Lies, dead ends stall progress a year after DJ was slain 
By Sean Gardiner
STAFF WRITER
In the final moments of his life, Jason William Mizell pulled himself off a couch in his Queens recording studio to hug a large man dressed in a black sweatsuit and black hat who had stopped by for a visit.
When the brief embrace ended, the man suddenly pulled out a .40-caliber handgun and from point-blank range fired at the man known to millions as Jam Master Jay, DJ for ground-breaking rap group Run-D.M.C. Those in the room reported to detectives they heard Mizell yell, "Oh, – !" before the gunshots rang out.
Incredibly, the first shot missed Mizell, going through his clothing and striking Uriel Rincon, a performer for a group Mizell was backing called Rusty Waters, in the left leg. A second shot hit Mizell in the left side of the head, leaving him dead as his body hit the floor, the source said.
The ominous hug, made public for the first time yesterday, signaled to detectives that Mizell, 37, knew his killer. Yet, as the one-year anniversary of the death of Mizell arrives tomorrow, detectives seem no closer to arresting his killer.
Investigators have had to sort through Mizell's debts, which forced his wife to take a job at a Banana Republic and may eventually top $500,000, allegations of drug dealing and finger pointing by Mizell's associates as to whom the killer might be. "We have nothing solid," said the law enforcement source, speaking on the condition of anonymity.
The problem, the source said, has been that Mizell's friends and trusted confidants have been less than forthcoming, with several people implicating each other in the rap icon's death. "Everyone in this case is lying," one law enforcement source said.
Nonetheless, the stalled probe has added to the perception among police critics that the department "does not give the same level of attention to victims of violence in the communities of color," said Lt. Eric Adams, who heads the fraternal police group 100 Blacks in Law Enforcement Who Care.
"Those who are assigned to the case do not pound the pavement with the same level of aggressiveness that's showed in other communities," Adams said of the perception in the black community. "This may not be the reality, but we've all learned in policing that perception becomes reality. What's perceived is what becomes real."
Adding to that perception are the unsolved slayings of rap icons Tupac Shakur in Las Vegas and Biggie Smalls in Los Angeles. Adams admits that the underground network that's in place in many communities hasn't helped the police in Hollis, he said.
Another part of the reason the investigation has flagged is that in the years after a combination of contract disputes and changing music trends caused Run-D.M.C. to fade from the limelight, Mizell's public stature also faded from view.
Where the world had been his stage and the tour bus his home, Mizell in recent years settled back into Queens, living in a modest home in Queens Village and running his ever-shrinking business interests out of his 24/7 Studio on Merrick Boulevard. His once very public life became private again, his comings and goings a mystery to even some members of his family.
To some acquaintances, hangers-on and friends, Mizell displayed no signs that he wasn't still the free-wheeling, big spending Jam Master Jay.
"Jay was never hurting for money around me," said Ronald Washington, who grew up with Mizell in Hollis. "Jay was a very generous guy. When you're around Jay he takes care of you."
But Mizell appears to have been drowning in a sea of debt, according to papers filed in Probate Court. State tax officials said Mizell owed $172,437.90 in unpaid state income taxes and nearly $53,339 in business taxes for his recording studio.
Records also show that Mizell owed at least $47,978 in federal income taxes, though the amount could eventually top more than $173,000. Including penalties and interest, Mizell could have owed close to $500,000.
Mizell was in such dire financial straits that his wife, Terri, took a job at a Banana Republic in the months before his death, court records show.
Some of Mizell's friends and acquaintances have suggested that those financial troubles drove him to enter the narcotics trade, which they say led to his death.
Police officials declined to comment on those allegations, saying "the investigation is ongoing."
But according to police sources, detectives have no evidence Mizell was involved in any illicit activities before his slaying, nor have they been able to confirm any of the allegations that have surfaced since his death.
The two most prominent allegations involved an alleged drug deal that Mizell and a man named Curtis Scoon purportedly made to buy about $30,000 in cocaine. The deal went sour and Scoon demanded that Mizell repay him, according to the allegations.
Scoon could not be located for comment and his lawyer, Marvyn Kornberg, declined to arrange an interview. However, in an interview in Playboy this month, Scoon says the debt was not over drugs and that it had been repaid.
"Jay did not owe me a dollar by the time of his death," Scoon said. He also asserted that the two hadn't been in contact in more than four years.
Scoon also said Mizell arranged drug deals, "but nobody wants to talk about it because they don't want to tarnish his image."
Washington told Newsday that he and Mizell met a drug dealer named "Uncle" at a swank Washington, D.C., hotel last summer and Mizell negotiated a deal to receive $120,000 of cocaine on credit. The drugs were driven to dealers in Baltimore but those dealers then disappeared, never repaying Mizell the money.
Mizell was supposed to meet with Uncle's associates on Oct. 30, 2002 – the day after his slaying, said Washington, who is in jail on charges he robbed a Long Island hotel.
Washington also said he saw two men – Darren Jordan and his son Karl Jordan – enter Mizell's studio the night of the slaying, then saw Karl Jordan fleeing from a back door after shots were fired.
But the stories told by Scoon and Washington are suspicious because both men are considered suspects and Washington had a run-in with Darren Jordan, according to law enforcement sources.
At the same time, Lydia High, a longtime friend of Mizell's and the sister of his business partner, Randy Allen, originally identified Washington as the man who accompanied Mizell's killer into the studio, law enforcement sources said. High, who is in protective custody, has since waffled on her identification, a source said.
Drug debts aren't the only possible motive that has been bandied about in the past year.
Several people told police that convicted drug kingpin Kenneth McGriff may have had Mizell killed because McGriff allegedly had a romantic affair with Mizell's wife.
Others had Mizell mixed up in a rap feud between his one-time associate 50 Cent and rapper Ja-Rule. Still others said Mizell was killed because he angered another recording artist by selling him the rights to a song that were later sold to someone else.
Allen was also accused of ordering Mizell's death to collect on an insurance policy. Allen has denied any involvement in Mizell's death.
When asked about those rumors, a law enforcement source said, "there's nothing solid on any of it. At this point we can't lock anybody up."
None of the rumors sit well with Connie Mizell, the rapper's 68-year-old mother, who said she is "letting God worry about" bringing her son's killer to justice.
"Have you ever known anyone in the limelight? Every little thing they do comes out," she said. "Don't you think it's strange that you didn't hear about anything when he was living?
"Jason is at peace, regardless of what they say about him," she added.
Staff writer Bryan Virasami contributed to this story.
Copyright  2003, Newsday, Inc.
————————

Rapper Slaying Lacks Arrests a Year Later
The Associated Press
October 30, 2003, 5:26 AM EST
A year has passed since a gunman clad in black walked into the Queens recording studio of Jam Master Jay and — possibly after greeting the rap legend with a hug — pumped a bullet into his head.
Since then, police say they have pursued "several significant leads," including some that suggest the rap legend died in a dispute over money. But Thursday's anniversary of a slaying that shook the music industry appeared likely to pass with the killer still at large.
Homicide detectives in Queens — where the pre-eminent DJ and founding member of Run-DMC was killed on Oct. 30, 2002 — say the case remains a top priority. They deny reports their hunt for the gunman has stalled.
"It's a very active investigation," Deputy Chief Michael Collins, a police spokesman, said Wednesday. "We're pursuing several significant leads."
The city, music industry notables and family members have helped keep the killing in the headlines by offering tens of thousands of dollars in rewards. Hip hop luminaries such as Russell Simmons and Sean "P. Diddy" Combs have been invited to mark the anniversary at a memorial service Thursday night near the murder scene in Queens.
But privately, investigators have complained that some witnesses have been uncooperative. And with no major breaks, the case has drawn comparisons to the unsolved slayings of rap superstars Tupac Shakur in Las Vegas and Notorious B.I.G. in Los Angeles.
The 37-year-old victim, whose real name was Jason Mizell, spent his last moments lounging in his 24/7 Recording Studio the night of his death.
The DJ had gained fame working the turntables as Russell Simmons' brother, Joe "Run" Simmons, and Darryl "DMC" McDaniels rapped on hits like "King of Rock," "It's Tricky," and a Top 40 remake of Aerosmith's "Walk This Way." In more recent years, he had helped produce and promote lesser-known artists.
Witnesses said a large man wearing a black sweat suit and black hat appeared inside the studio and, according to a report in Newsday, embraced Mizell. He then pulled out a .40-caliber pistol and opened fire.
A first round missed Mizell, instead injuring a performer who was working in the studio. A second bullet, this time fired from point-blank range, entered the left side of Mizell's head. The shooter vanished.
To detectives, a hug would suggest Mizell knew his killer. But the identity of the shooter — and his motive — have been the subject of conflicting reports.
There has been speculation that Mizell, who was drowning in debt, may have been killed on orders from someone he owed money. Other reports have suggested that the victim was involved in drug deal gone bad.
Some authorities also have suggested Mizell was caught in the crossfire of a rivalry between rap figures who associate with known criminals. 50 Cent — a Queens-reared rapper who worked with Mizell — has feuded with Irv Gotti, head of the Murder Inc. recording label.
Federal agents earlier this year raided the Manhattan offices of Murder Inc. amid allegations that the label was laundering money supplied by a convicted drug kingpin, Kenneth McGriff. Prosecutors believe McGriff may know something about Mizell's death.
Gotti and McGriff have denied any wrongdoing.
Copyright  2003, Newsday, Inc.
The main front page photograph of Jam Master Jay a.k.a. Jason Mizell was taken by Glen E. Friedman and used UN-AUTHORIZED by Newsday via a photo agency that has NO -RIGHTS to sell or use any of GEF's work.